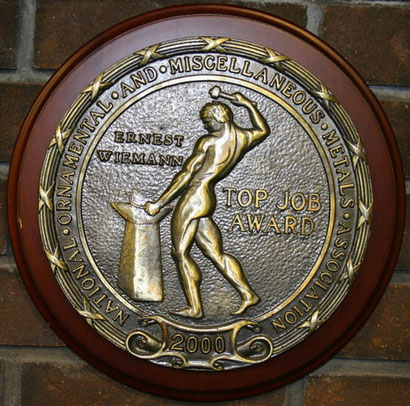 27 Professional Awards (Gold-18; Silver-4; Bronze-4 and one award "For Excellence") in THE ERNEST WIEMANN TOP JOB AWARDS INTERNATIONAL COMPETIOTION, USA, 1999-2011

Gold award of the 2000 Ernest Wiemann Top Job Competition
(Stair railings, exterior/interior - forged)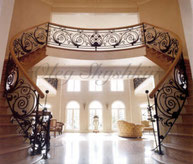 This railing is 160 linear feet long. Railing has two central banded pieces from the main floor and one banded piece from main floor to basement. Material includes sq. 5/8-inch, flat 5/8 by 3/16-inch, flat 11/4 by 3/8-inch. All elements are hand forged. Main elements are water leaf, bolls, scrolls, rosettes, flowers, branches, etc. Designed by Oleg Shyshkin. Labor time: approximately 260 hours. 

Gold award of the 2000 Ernest Wiemann Top Job Competition (Forging)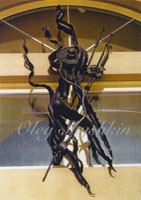 Oleg Shyshkin designed this entrance, and its forged composition is made from different forged elements from vegetation and animal themes (snakes, lizard, reeds, aquatic plans, etc.). This motif is repeated inside the house in decorative scones and curtain rods.
Labor time: 120 hours. 

Bronze award winner of the 2000 Ernest Wiemann Top Job Competition
(gates, driveway - forged)
Estate Gates "Casa Notre".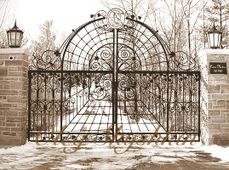 This hand forged gate consists of three parts: central part (16 ft wide, 12 ft high), two side panels, banded R I P. The gates operates on sliding openers system. Weight of the central piece is 900 kg. and the frame is of heavy square tubing, 2 by 2 inches. The design is based on renaissance motif of three dimensional designs. Gate is decorated by hand forged bolls, rosettes, scrolls, flowers, leafs, weater leafs, etc., in Art Nouveau style. Oleg Shyshkin designed this project. 

Gold award of the 2001 Ernest Wiemann Top Job Competition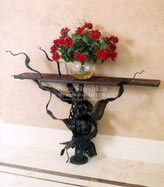 Gold award of the 2001 Ernest Wiemann Top Job Competition